Who doesn't love a nice day out with a toddler? Whether it's somewhere you've visited while on holiday, or somewhere you go to all the time, there's something fab about getting out and about for the day with a toddler in tow. And not all places are brilliant for toddlers, so I thought it would be helpful to other parents if we pull together some of the best places for days out with a toddler.
If you've some tips for getting out of the house with a toddler (we all know how they have to wear exactly the right pair of socks…), or plans for the perfect picnic, or even the story of your visit to a castle or museum, show us! Link up here!
Join the #daysoutwithatoddler linky:
Add the link of your post on your day out with a toddler below and, if you like, tweet @tweetinghelena a link to it using the hashtag #DaysOutWithAToddler.
Have a read of some of the other posts too – you might find inspiration for your next day out.
I'll be rounding up my favourite posts in a next month's linky, so make sure you've linked up for a chance to be included!
Come and join my Days Out With A Toddler Pinterest board to drop your posts in – be sure to add the location so we can make a nice map!
If you're not a blogger, or you don't blog about days out with your toddler – you can still join in – just use Instagram and tag your photo with the hashtag #daysoutwithatoddler and I'll find you!
The linky is open from the first Saturday in each month for two weeks – plenty of time to join in!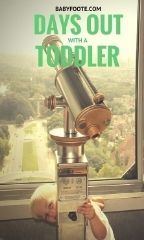 <div align="center"><a href="http://babyfoote.com" rel="nofollow" title="Babyfoote" target="_blank"><img src=" http://i12.photobucket.com/albums/a214/Helena_Blakemore/fff57941-1bcc-40a5-a0f3-0260d49555fc_zpsxo3fwbh3.jpg" alt="Babyfoote" style="border:none;" /></a></div>