Hopefully you have had some lovely days out with a toddler and you're raring to go for more in July!
I'd love to see where you've been on your days out with a toddler – did you visit the zoo or the park? Did you go trekking through a forest? Or maybe you ventured out on with the rest of the family? Do share your blog posts here.
Thank you to everyone who linked up last month. Of all the fabulous posts about days out with a toddler I'm featuring Reimer and Ruby's post they spell love…T.I.M.E because not only are there some really gorgeous photos, but the sentiment is just beautiful. Children love to spend time with us, and this post really reflected that idea of wonderful childhood memories being made.
I'm joining in with our trip to Durham's Oriental Museum, which is a great place for a day out with a toddler, but it's terrific for the whole family because they really have thought about every age group in this small but wonderfully curated museum.
Join the #daysoutwithatoddler linky:
Add the link of your post on your days out with a toddler below and tweet me @tweetinghelena a link to it using the hashtag #DaysOutWithAToddler. I'll retweet them.
Just two posts per blog, please.
I like comments 🙂 – please leave me a comment on the linked post and/or this one
Have a read of some of the other posts too – you might find inspiration for your next day out. Leave them a comment and use the hashtag #daysoutwithatoddler so they know where you've visited from.
I'll be telling you my favourite post next month so make sure you've joined the linky for a chance to be mentioned.
If you use Instagram tag a photo of your day out with the hashtag #daysoutwithatoddler and tag me (@underfoote)for comment and like!
The linky is open from the first Saturday in each month for two weeks – plenty of time to join in. If you'd like to be added to the reminder list, send me a tweet or write a comment below and I'll give you a shout each month.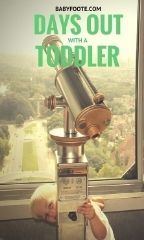 <div align="center"><a href="http://babyfoote.com" rel="nofollow" title="Babyfoote" target="_blank"><img src=" http://i12.photobucket.com/albums/a214/Helena_Blakemore/fff57941-1bcc-40a5-a0f3-0260d49555fc_zpsxo3fwbh3.jpg" alt="Babyfoote" style="border:none;" /></a></div>