Hello, welcome to days out with a toddler linky! Has Autumn arrived where you are? Have the leaves turned beautiful colours and fallen to the ground? Have you been able to introduce your toddler to the joy of crunching through leaves?
Where have you been to with your toddler? Did you go on any nice days out? Any disasterous days out with a toddler you'd like to share?
Last month was absolutely crazy; trying to get back in a routine, and having an over-tired 4-year-old since he's been back at school, we've been on very gentle, very close to home days out.
My favourite post from the linked blogs last month was Rock and Roll Pussycat's visit to Scarborough. I found it absolutely amazing all the activities they managed to squeeze in to one day! The photos of the day trip are wonderful too. Pop over to have a read, and also check out the other blogs who linked up in September because it was pretty hard to call which post was best!
I'd love to see where you've been on your days out with a toddler! Did you do anything recently that you've shared on your blog? Then link up here!
I'm joining in with our day at Seaton Delaval Hall, the nearest National Trust property to our house. It's a small property but big enough to spend a good length of time there.

Join the #daysoutwithatoddler linky:
Add the link of your post on your days out with a toddler below and tweet me @tweetinghelena a link to it using the hashtag #DaysOutWithAToddler. I'll retweet them.
Just two posts per blog, please.
I like comments 🙂 – please leave me a comment on the linked post and/or this one
Have a read of some of the other posts too – you might find inspiration for your next day out. Leave them a comment and use the hashtag #daysoutwithatoddler so they know where you've visited from.
I'll be telling you my favourite post next month so make sure you've joined the linky for a chance to be mentioned.
If you use Instagram tag a photo of your day out with the hashtag #daysoutwithatoddler and tag me (@underfoote)for a comment and like!
The linky is open from the first Saturday in each month for two weeks – plenty of time to join in. This month the days out with a toddler linky is open from 1st October to late night on the 15th October.
If you'd like to be added to the reminder list, send me a tweet or write a comment below and I'll give you a shout each month.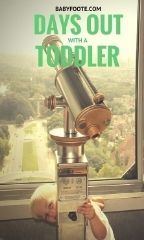 <div align="center"><a href="http://babyfoote.com" rel="nofollow" title="Babyfoote" target="_blank"><img src=" http://i12.photobucket.com/albums/a214/Helena_Blakemore/fff57941-1bcc-40a5-a0f3-0260d49555fc_zpsxo3fwbh3.jpg" alt="Babyfoote" style="border:none;" /></a></div>