Well here we are, in June, with a few days of sunshine behind us and still hoping for proper summer to arrive. We spent some time in France last month, chasing the sunshine, and we had a some really lovely days out, particularly when we visited Mont Saint-Michel, and we saw some lovely Chateaux in the Loire Valley. Where have you been with your toddler? This is the linky for you to share your posts when you've written about going on a day out with a toddler.
I'd love to see where you've been on your days out with a toddler – did you visit the zoo or the park? Did you go trekking through a forest? Or maybe you ventured out on with the rest of the family at May half term?
I really enjoyed all the blog posts linked up last month. There were no less than four bloggers who visited steam trains in some way or another – every toddler's favourite day out? If you missed any of those go and check them out, especially if your little one loves trains.


My favourite post was Entertaining Elliot's bluebell carpet, in Pamphill in Dorset. I think bluebells are a bit of a declining feature in woods and they are so special and took a part in so many people's childhoods. I've seen so many people asking on local Facebook groups if anyone knows where there are any bluebells. What a shame it would be if we couldn't share them with our children in the future. I read that the National Trust were going to charge people to see bluebell carpets after people didn't respect the flowers!
I'm joining in with
our trip to Parc mini-Chateaux
in Amboise, Loire Valley. The Parc is home to models of all the chateaux in the area as well as some fun activities for children (with a castle-y theme).
Join the #daysoutwithatoddler linky:
Add the link of your post on your days out with a toddler below and tweet me @tweetinghelena a link to it using the hashtag #DaysOutWithAToddler. I'll retweet them.
Just two posts per blog, please.
I like comments – please leave me a comment on the linked post and/or this one
Have a read of some of the other posts too – you might find inspiration for your next day out. Leave them a comment and use the hashtag #daysoutwithatoddler so they know where you've visited from.
I'll be telling you my favourite post next month so make sure you've joined the linky for a chance to be mentioned.
If you use Instagram tag a photo of your day out with the hashtag #daysoutwithatoddler and tag me (@underfoote)for a comment and like!
The linky is open from the first Saturday in each month for two weeks – plenty of time to join in. If you'd like to be added to the reminder list, send me a tweet or write a comment below and I'll give you a shout each month.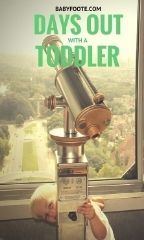 <div align="center"><a href="http://babyfoote.com" rel="nofollow" title="Babyfoote" target="_blank"><img src=" http://i12.photobucket.com/albums/a214/Helena_Blakemore/fff57941-1bcc-40a5-a0f3-0260d49555fc_zpsxo3fwbh3.jpg" alt="Babyfoote" style="border:none;" /></a></div>