Hello, thanks for popping over to join in days out with a toddler. This is the linky for you to share your posts when you've written about going on a day out with a toddler.
Maybe you've written about a trip to the zoo, or you've got a sure fire method for getting your toddler out of the door for a day out? Perhaps you've got a post about packing a picnic, or maybe you all went to a museum together with your toddler? Whatever it is, I'd love to read about it, so do join up here!
Last month we had some brilliant tales of days out. The dad bloggers seemed to have less than perfect days out with their toddlers, however they are fantastically written, funny tales – to see what I'm on about take a look at February's link up.

My favourite from last month was this road trip from The Whatever Mom. It's the road trip (and post) that just keeps giving – an aquarium, real dinosaur footprints and an amazing children's museum. If you missed it go and have a read now!
I'm joining in with our trip to the Welsh National Slate Museum, which we visited in October 2014. Do read and comment, please 🙂
Join the #daysoutwithatoddler linky:
Add the link of your post on your day out with a toddler below and tweet me @tweetinghelena a link to it using the hashtag #DaysOutWithAToddler. I'll retweet them. Just two posts per blog, please!
Have a read of some of the other posts too – you might find inspiration for your next day out. Leave them a comment and use the hashtag #daysoutwithatoddler if you remember so they know where you've visited from!
I'll be telling you my favourite posts in a next month's linky, so make sure you've linked up for a chance to be mentioned!
I'll add the posts to the Days Out With A Toddler Pinterest board – I'd like to make a nice map!
If you're not a blogger, or you don't blog about days out with your toddler – you can still join in – just use Instagram and tag your photo with the hashtag #daysoutwithatoddler so I can comment! I'm @underfoote on Instagram – do tag me!
The linky is open from the first Saturday in each month for two weeks – plenty of time to join in!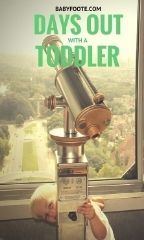 <div align="center"><a href="http://babyfoote.com" rel="nofollow" title="Babyfoote" target="_blank"><img src=" http://i12.photobucket.com/albums/a214/Helena_Blakemore/fff57941-1bcc-40a5-a0f3-0260d49555fc_zpsxo3fwbh3.jpg" alt="Babyfoote" style="border:none;" /></a></div>