Hello, thanks for popping over to join in days out with a toddler. This is the linky for you to share your posts when you've written about going on a day out with a toddler.
Maybe you've written about a trip to the zoo, or you've got a sure fire method for getting your toddler out of the door for a day out? Perhaps you've got a post about packing a picnic, or maybe you all went to a museum together as a family with your toddler? Whatever it is, I'd love to read about it, so do join up here!
Last month we had a right mixed up bag of weather. How did that affect your days out? Did you manage to get out on the sunny days? Did you brave the crazy wet cold weather too?
We had a load of great blog posts shared with the linky last month. I have to say, I found it really difficult to pick a favourite; all of the days out were adventures I know my boys would love. However, since I have to choose, I'm going with Adventures with J's post about Marwell Zoo. The post is a very candid tale of a day out with a toddler that we can probably all relate to, with its highs and lows. There are also brilliant photos, too. Go and have a read if you didn't last month.
I'm joining in with our trip to Wales, where we explored an amazing castle and went for a ride on a Welsh Highland Railway steam train. We had a brilliant time climbing up the towers of Caernarfon Castle, and we loved going through the tunnels on the choo-choo.
Join the #daysoutwithatoddler linky:
Add the link of your post on your days out with a toddler below and tweet me @tweetinghelena a link to it using the hashtag #DaysOutWithAToddler. I'll retweet them. Just two posts per blog, please.
Have a read of some of the other posts too – you might find inspiration for your next day out. Leave them a comment and use the hashtag #daysoutwithatoddler if you remember so they know where you've visited from.
I'll be telling you my favourite posts in a next month's linky, so make sure you've linked up for a chance to be mentioned.
If you're not a blogger, or you don't blog about days out with your toddler – you can still join in – just use Instagram and tag your photo with the hashtag #daysoutwithatoddler so I can comment! I'm @underfoote on Instagram – do tag me.
The linky is open from the first Saturday in each month for two weeks – plenty of time to join in. If you'd like to be added to the reminder list, send me a tweet or write a comment below and I'll give you a shout each month.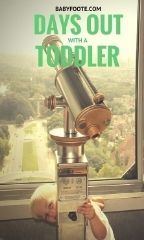 <div align="center"><a href="http://babyfoote.com" rel="nofollow" title="Babyfoote" target="_blank"><img src=" http://i12.photobucket.com/albums/a214/Helena_Blakemore/fff57941-1bcc-40a5-a0f3-0260d49555fc_zpsxo3fwbh3.jpg" alt="Babyfoote" style="border:none;" /></a></div>